One of the biggest myths about psychological well being is that it's somehow fixed, existing as a steady state for a privileged few.
The truth is, empowerment is intentional. Those who have learned to cultivate it have worked hard to develop the pathways that strengthen it. After time, intentional empowerment becomes second nature (neuroscience tells us it takes six months to two years of consistent practice to form new brain patterns). It's true that some people make it look easy, likely because we're not taking into account those months or years where they poured their heart into committing to a new mindset.
The most powerful tool in doing just that, is the simple art of redirecting our thoughts.
This is the entire foundation of intentional empowerment, the heart of resilience. And for Highly Sensitive People, who have the ability to see every possible outcome, locally and globally, it is imperative to remember that we cannot see the future. And because the brain evolved to scan for dangers, to keep us out of the jaws of the saber toothed tigers, it can be difficult to see the possible positive outcomes of any circumstance.
For now, there is a really simple way to shift your brain into its executive function, which is where we generate the resources to find solutions, innovate, and create new possibilities: We intentionally take back the narrative.
We do that by asking ourselves the right questions. We learn to guide our own thinking.
Below are thirty thoughts and questions for you to use as journal prompts, or to simply ponder. Whether you dive into them deeply or take 30-seconds to consider, you'll be creating a neurological shift toward the executive center in your brain where you can find your footing.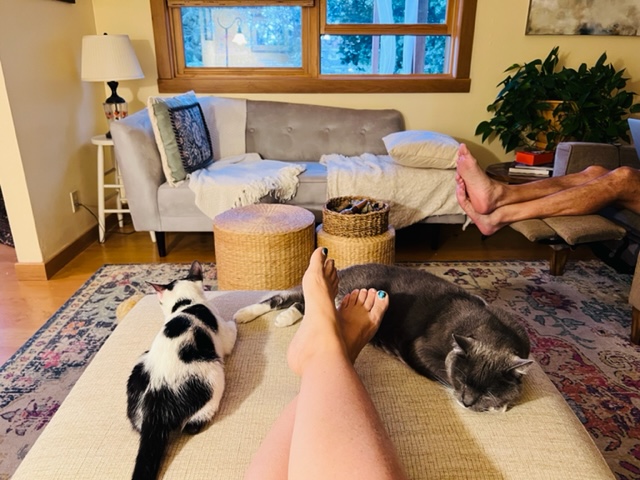 30 Thoughts & Questions to Shift our Mindset to Intentional Empowerment:
Where are you when you feel most yourself?
If you could tell everybody in the world one thing about you, what would it be?
What is your fully realized self most grateful for?
Recently a coyote and a badger were accidentally caught on a USFS wildlife camera. They appeared to be best friends, traveling together, and even taking a nap together. Take a moment to think about all the magical things that happen in the wild, that haven't been caught on camera.
What are some mundane details of your life that another person might consider the height of luxury?
How can you consistently remind yourself to never again take things like this for granted?
Think about how many times your guardian spirits kept you safe from danger, and you were completely unaware of their divine intervention. Have you told them Thank You lately?
What qualities do you most admire in other people? (You likely share some of these qualities without even being aware of it.)
What does "Yes" feel like in your body?
What is the last important teaching the Universe revealed to you about your own best qualities?
Place an unread book from your bookshelf on your bedside table to symbolize your commitment to finish things you intended to start.
Practice "progress not perfection" by reading that book until completion, even if it's only five minutes a day, and takes you a full year to finish.
Consider all the seemingly random, chance occurrences that have brought magic to your life. Then consider that these things were not random at all.
What is your favorite mantra that speaks to you about not holding on so tightly to life, practicing the art of surrendering control of those things not meant to be controlled by you?
Read this mantra at least once a day. For the rest of your life.
Imagine you just won the lottery. Whose life will you anonymously change with a monumental financial gift?
What is the first association that pops into your mind when I say the color, "Aquamarine"?
What genuinely makes you involuntarily smile?
Imagine an animal saves your life. (It's happened many times in history.) What or who is the animal, and what were you doing that required you to be saved?
The word Cosmos, rather than Universe, implies viewing the Universe as a complex, orderly, benevolent system–the opposite of chaos. Imagine it cheering you on.
Imagine the sight of the most beautiful lavender farm in full bloom.
Imagine the smell of the lavender in the air.
…the sound of honey bees happily gathering purple pollen.
…the feel of the sun on your skin, the same sun that nourishes the lavender.
…and the taste of a lavender honey cake.
What is the most outlandish thing you wanted to be when you grew up, and how has some version of that come true?
How would you navigate life differently if you grew up on a planet where you knew from your first breath, that every thought you had came true?
What is one action that you can take today to move yourself in the direction of a life that feels more ideal for you?
How are you underestimating your own power to make positive change in the world?
Is it easier to underestimate yourself than to believe in your own capabilities?
It's that magical time of year in our family!
It's our 19th wedding anniversary next week, it's Aaron's birthday, and the week after that is my birthday! So as I always do this time of year, I'm heading into an intentionally celebratory stretch of hiking, day-tripping, and being with friends. I'm immersing myself in the most important question a Highly Sensitive Person can ask herself: How do I want to feel this week?
Intentional empowerment is a spiritual practice. It takes intention to feel empowered. If you don't feel empowered, it doesn't mean you are powerless. You can learn how to stay silent or how to roar–each can be a manifestation of your empowered self. You can take whatever action you need, to feel formidable in your own life.
Start gently, start here, and I know you'll sense an immediate shift.
Be well!
Much Love,
Kristy